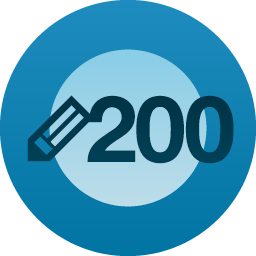 That icon tells me, and you, that I have posted 200 times on my blog. I'm not certain that is a huge accomplishment in the grand scheme of things, but when it was sent to me, I thought 'Wow, that's great.'
I started blogging in late summer (I think) 2015, and have just rocked along not counting the days or the number of times I've posted or reposted. I've just been enjoying the journey of connecting with other bloggers, meeting new folks, and writing whatever comes to my mind. And people have been gracious, kind, and generous in their support of my efforts.
So, thank you if you are following me. Thank you if you just stumbled across my site and sent me a 'like'. Thank you if you left a comment. This has been a delightful trip, and I'm pleased some of you wanted to share the ride with me.